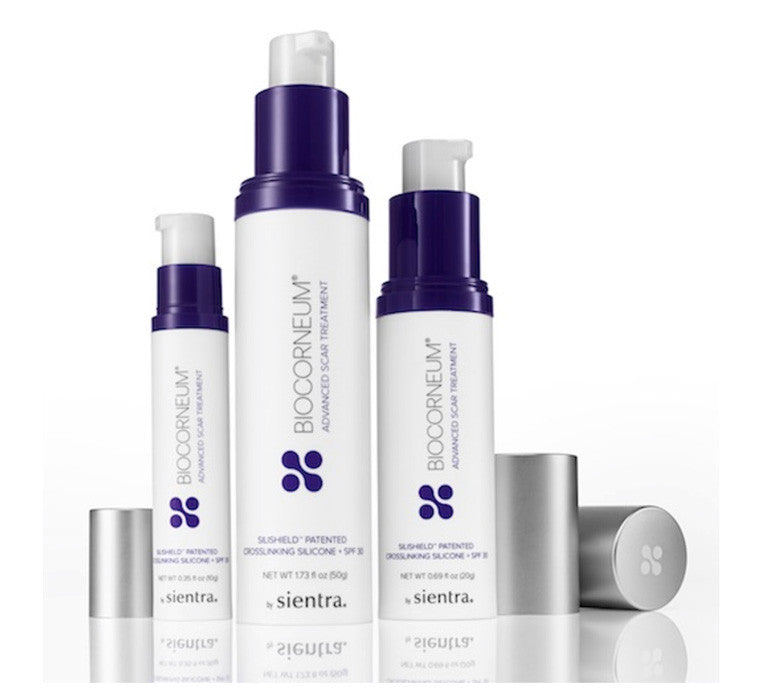 BioCorneum (Sientra)
Regular price $50.00 Sale
Details
BioCorneum is the first and only advanced scar treatment with FDA approved medical grade cross-linked silicone and SPF 30.  This fast drying combination helps to prevent and minimize the formation of thickened, dark scars, and decreases the appearance of old scars.  Healing scars with unprotected sun exposure have a tendency to darken.  The broad-spectrum sunscreen in BioCorneum helps to prevent sun associated darkening and redness of scars.
The 20 gram tube is ideal for breast augmentation, liposuction, facelift, lesion excision, wound repair or for scars less than 6 inches.
The 50 gram tube is ideal for tummy tuck, breast lift, breast reduction, arm lift, multiple procedures or for larger scars measuring greater than 6 inches.
Benefits
First and only FDA-approved topical silicone scar treatment with SPF 30 to protect scars from sun-related pigmentation and redness
Softens and flattens raised scars
Reduces redness and discoloration
Relieves scar associated itching and discomfort
Directions for Use
Once your sutures and steri-strips are removed, apply a thin layer of BioCorneum twice daily for 3-4 months.  If your skin has a tendency to form thickened, red scars or keloids, continue using BioCorneum for 6 months to a year.
Active Ingredients
Octinoxate 7.5%, Octisalate 5.0%, Octocrylene 10%, Oxybenzone 6.0%
Ingredients
Polysiloxanes, Silicon Dioxide, Isopropyl Myristate